Kris Jenner is the Internet's most beloved savage human being. While people love to hate on her family, her empire and her reality TV show, this mother of 6 is actually f*cking hilarious. If you do ever watch her show, you'll know she's the ultimate prankster and loves to get a good laugh in during her busy, hectic life. This week, she appeared on Ellen DeGeneres' talk-show and in a bit, Ellen made her go into a 99 cents store and shop – with an ear-piece in her ear. Ellen basically made her say everything she told her to say – and, it was absolutely f*cking fantastic.
She had Kris walk up to the register with a pre-filled shopping cart, claiming she is a "big celebrity." If you watch the video, I'm not even sure the cashier knew who she was. But, it was hilarious to watch.
She made Kris ask how much each item was – as if she really needs to worry about that. She also made her same some ridiculous stuff like – "I shave my back."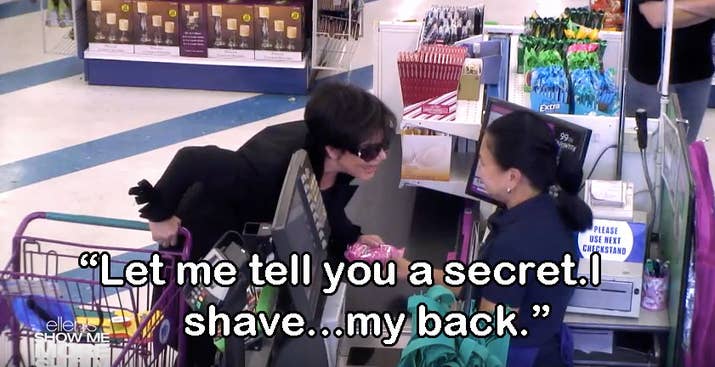 She also made Kris ask some very "Kris Jenner" questions about the products in her cart.
And, even put on a bathrobe in the store.
Fans took to Twitter to express how much they actually enjoyed this bit and how hilarious it was.
Ellen in Kris Jenner's Ear is so so hilarious. ?????

— h (@_sansaa_) November 6, 2017
I've watched the video of Ellen telling Kris Jenner what to do in the 99 cent store 6 times

— Ev (@Evershmev) November 6, 2017
KRIS JENNER IN THE 99 CENT STORE ON THE ELLEN SHOW IS MY FAVORITE I'VE WATCHED IT 4 TIMES AND CAN'T SROP CRY-LAUGHING

— maddie (@dawnaIIen) November 5, 2017
lol kris jenner at ellen show is doin it great ??

— trixie ✨ (@dlcrztrx_) November 6, 2017
"But you know what? Too blessed to be stressed." — @KrisJenner at the 99 Cents Store on #TheEllenShow ???? pic.twitter.com/oJG40OxcW4

— ✨OK Whatever✨ (@okwhatever4ever) November 3, 2017
kris jenner in the 99 cents store was too funny

— lauren (@llaurenxaashley) November 6, 2017
@TheEllenShow telling @KrisJenner what to say at the 99 cents store had me in stitches

— laura (@asvprauhls) November 3, 2017
You can watch the whole thing and ROFL here.