Incase you're too young to remember, or you're not fluent in celebrity news, Chris Brown is a scumbag. I mean – he is an absolute piece of garbage. He dated singer Rihanna before they split in 2009 after he beat the sh*t out of her and, was sentenced to five years probation for the assault. He was also given a restraining order and had to remain at least 50-yards away from the singer – unless they are at a similar event – to which it was 10-yards.
The pictures of Rihanna after the fight went viral online and – for the sake of girl code and humanity – we won't post them. It's just wrong.
Why am I bringing up this assault from 2009? Well – Chris Brown has decided that it's a great idea to comment on a picture on Rihanna's Instagram – and, we're crowning him 2017's World's Thirstiest Man.
Rihanna has been looking incredible lately. She's put on some weight, but, she looks flawless as she's embraced her curves and – everyone has noticed. She posted a photo on her Instagram page from her annual trip to Barbados for the country's Crop Over Festival.
You have to admit – she looks incredible. But, lets be honest, when doesn't Rihanna look incredible?
Instagram users were bombarding the singer with hearts, emojis and tons of "SLAY" comments – but – one comment stuck out like a douchebag sore thumb because…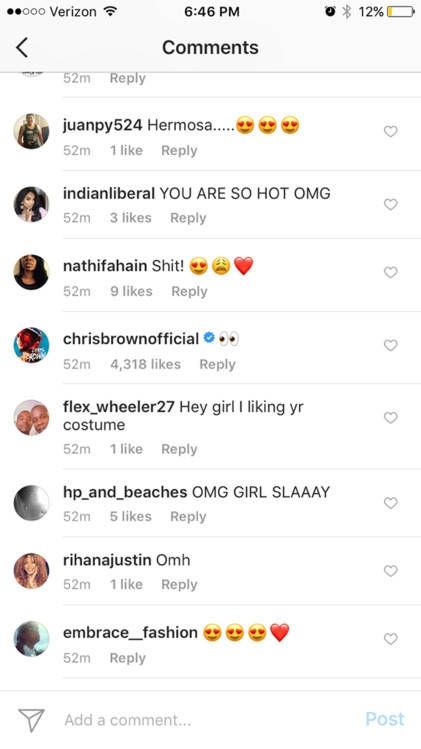 Is that what I think it is?
ARE YOU F*CKING KIDDING ME?!?
*Deep breaths*
How dare Chris Brown have the balls to comment with some side-eyes at Rihanna after he literally beat the sh*t out of her. Who does he think he is? Someone get this entitled a**hole a reality check. I'm heated. I am NOT having this. And, neither is Twitter.
Chris Brown had the audacity to comment "?" under Rihanna's picture. Imagine being that bold.

— Jodie Landon (@_succcubus) August 8, 2017
Chris brown commenting on Rihanna's photo actually makes me feel physically sick pic.twitter.com/2Myr7guQ5m

— katherine (@nygmatics) August 8, 2017
when Chris brown comments on Rihanna's ig post ??? pic.twitter.com/JHp9dho7Gw

— thoT (@Ian_T_Gordon) August 8, 2017
We gotta defend Rihanna at all costs pic.twitter.com/8hChvnSqtC

— Half Inch Punisher (@Yahiam_) August 8, 2017
Chris Brown need to take his eyes all the way out of here. My boo rihanna don't want none! pic.twitter.com/jzVyWj235t

— Beautiful Nightmare (@Hail_2The_V) August 8, 2017
*chris brown stalks rihanna*
me: pic.twitter.com/y9wz3lUm2g

— J?SHUA || (@JoshuaTweetings) August 8, 2017
Chris Brown needs to leave Rihanna alone FOREVER.

— U COULD NEVER (@astrog1rll) August 8, 2017
Chris Brown really comments eyes and shit when he sees pictures of Rihanna like he didn't beat the shit out of her. He's so trash.

— Rochelle A. (@rcellle) August 8, 2017
Really Chris Brown ???? You gon comment under Rihanna's picture ?? Right in front of my salad ?? pic.twitter.com/Vr3sokIIgR

— boi (@KidBrenen) August 8, 2017
chris brown is an obsessive and abusive disgusting man who rihanna has absolutely no interest in, he's fucking psychotic

— dani ♡ (@runwayrih) August 8, 2017
Can we all give a collective "BOIII WTF U THINKIN" to Chris Brown's comment on Rihanna's insta???? pic.twitter.com/GoFkQLoAWS

— lisa newcar (@wesstrobe) August 8, 2017