When summer comes around, it's hard to find clothing that keep us cool and is also appropriate to wear outside – especially for women. Many of times, us girls would rather go naked than wear clothing when it hits 90 degrees out.
But, because we don't all live on a nudist colony, we usually wear some form of shorts and tank tops – trying the best that we can to beat the heat Every woman knows the deal – summer rolls around and we pull out our shorts, skirts and tanks from the back of the closet.
While we're all accustomed to seeing women dressed this way, there are some people who ruin it for the rest of us and make us all feel ashamed for humanity. Recently, Hannah Pewee was shopping at Michigan's Woodland Mall wearing your average summer outfit.
What happened next is shocking and surprising – and almost disgusting.
She shared what happened on her Facebook page, along with a photo of her outfit.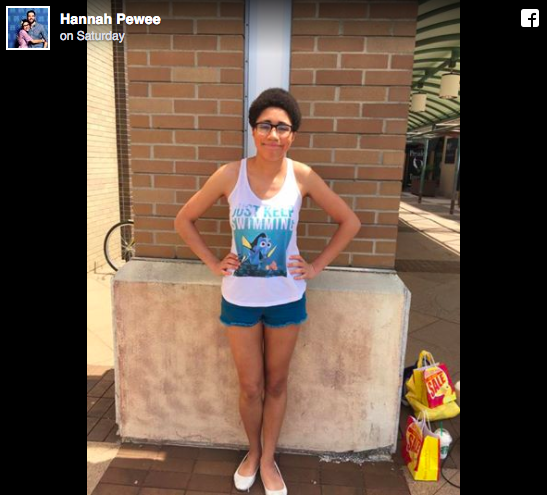 She wrote:
"As many of you know, it is NINETY degrees outside today in West Michigan. Aka, really hot. So, of course, I decided to dress for the weather: shorts and a tank top. But apparently, how I was dressed (see photo below) was too slutty for the public, as I was kicked out of the Woodland Mall today.

Yup. Apparently some anonymous person reported me to MALL SECURITY for inappropriate dress and I was kicked out.

Never mind that within a one foot radius there were plenty of girls dressed just like me, since it's NINETY degrees outside. I am so angry right now I'm shaking. I felt so embarrassed I almost cried. All because a stranger didn't like how I dressed.
The Woodland Mall should be ashamed of themselves, as well as that anonymous complainer. It's my body, and it's hot outside! I'm not going to show up in jeans and a sweater, sorry. Don't like it? Look away! I was out having a fun time with my sister and next thing I know, I'm out on the street. Slut-shaming how girls are dressed is deplorable and outdated, and it needs to stop."
That's right – someone complained about her outfit and she got thrown out of the mall.
I'm fuming. I'm raging. I'm angry for her and all of the females who are slut-shamed and made to feel as though they are nothing more than their bodies.
And, people on Facebook felt the same way. Thousands of people commented on Hannah's post, showing support.






After the post went semi-viral, the mall reached out to Hannah to issue an apology. She followed up with a Facebook post stating that:
"Alright, so I talked on the phone with the someone on the management team at Woodland and they apologized for what happened yesterday. Apparently they're going to revise their clothing policy on their website so it is clearer what is and isn't acceptable. In addition, security will be discussing how to properly handle situations like this.
I want to thank everyone for the supporting messages, it really helped, especially when so many people were more than ready to tear me apart. Thank you all so much ❤️ Hopefully some good can come out of this all!"
So, what do you think?