Kourtney Kardashian has officially moved on from baby-daddy Scott Disick and taken her hot body and super-mommy antics elsewhere.
While we've always rooted for Kourt and Scott to have a little, adorable, Disick family reunion – we're over it at this point. Scott sucks and he isn't changing anytime soon. Plus, Kourtney's not getting any younger – so why should she wait around any longer?
Sure, she may be a mother of three, but her body is slammin' regardless.
Like, seriously, how does her body look like that after three kids?
Regardless – the mother of three has been seen getting close and comfortable with a 23-year-old model who is hot, hot, hot.
Meet Younes Bendjima, a 23-year-old model from Algeria. He used to be a professional boxer, but, not he's a professional model (of course he is).
Lord, have mercy.
The two were caught getting pretty close in Cannes, France this past month.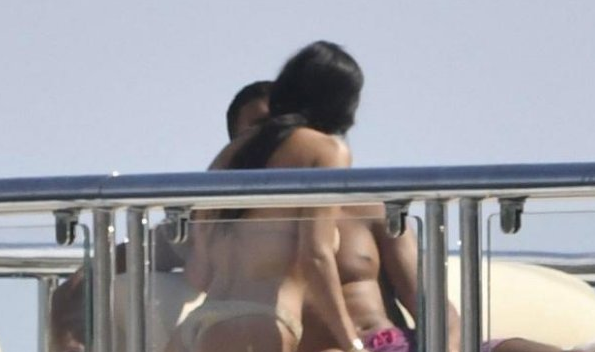 And, Twitter is living for it.
I am LIVING for kourtney kardashian and her new boyfriend ❤️❤️❤️❤️

— Dominique Joaquin (@Dommmjoaquin) May 29, 2017
kourtney and her new boyfriend so cute

— K$ (@erecinos9) May 29, 2017
Y'all….. this is Kourtney Kardashian's new boyfriend at age 38. Wtf am I doing wrong pic.twitter.com/xm9Oo7t6Qv

— Nicolina Mariama (@NicoDue_) May 26, 2017
I seriously didnt know Kourtney's new boyfriend is muslim! He so cuteeee

— Shaqilah Sianturi (@ShaqilahSian2ri) May 28, 2017
Have you lot seen Kourtney K's new boyfriend ????? yassssss queen get that North African good good!! What a BUFF TING ?……Scott who????

— CurvyCampbell (@_OliviaCampbell) May 26, 2017
Kourtney K's new boyfriend??yaaaaas Kourt???

— Sunshine Kondile (@house_of_sunny) May 7, 2017
Yassss, Kourt, get yours.