If you've ever gone to college, or are going to college currently, you'll know the pain of looking at tuition prices. It's difficult to explain the shear panic that goes through your body, mind and soul when realizing you may be in debt for the rest of your life in order to obtain a degree that may or may not land you a career.
With tuition prices sky-rocketing and more degrees needed to land decent paying jobs, some of us students have absolutely no choice but to succumb to the scary reality of student loan debt. And, while the world is an absolute nightmare for us debtors that have to make ends meet to pay off the loans, there are some people in the world that we can only call angels.
One Australian couple was eating at a restaurant in Hawaii when they had the pleasure of being served by Cayla Chandara, a student at Aloha State. Like many waitresses know, when you have out-of-towners sitting at your table, they often ask about yourself and your life outside of your job.
Chandara told the couple that she waitressed at two different restaurants in Waikiki, Hawaii – Noi Thai Cuisine and the Cheesecake Factory. Chandara had told the couple she had moved to Waikiki for school, but racked up some serious debt while attending and couldn't afford to continue her education and continue living in Waikiki full-time.
After having such incredible service and learning more about her, the couple decided to leave Chandara a $400 tip on their $205 check. That's way more than the average 20%.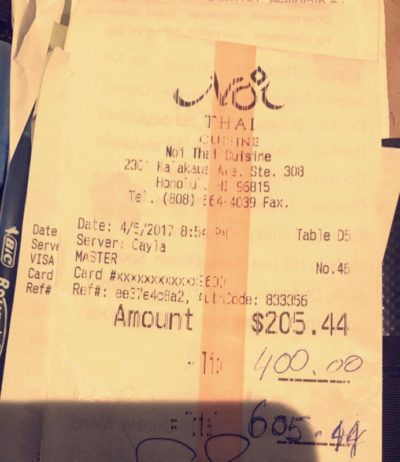 Chandara told KHON that she was so grateful, she decided to stop by the couple's hotel where they were staying and thank them properly – by showing up with flowers and a genuinely written card.
Chandara told KHON, 
"" just thought it was so generous of them. I never get tipped that big. I had to say thank you. During dinner, they told me where they were staying, so I ran there after work to see if they'd still be there."
As if the  $400 tip wasn't enough to make this waitresses' day, the couple returned the following evening to propose a magical gift to Chandara – they wanted to give her $10,000 to pay off her college loans.
Chandara said she declined, several times, but the couple insisted that she take the gift and continue her education. Now, she plans to return to school to study liberal arts and business.
"I want to make them proud. I will take this opportunity with an open heart and be a better person that I can be every day."