Everyone who has ever shopped online knows that sometimes, we get things in the mail that we totally didn't order. Whether the material is way cheaper in person or the size is totally off—or, we get the wrong item completely—we've all been through the hell of receiving something that's definitely not what we ordered online.
Recently, one mom learned her lesson the hilariously hard way when she decided to order a cute t-shirt for her 3-year-old daughter, Salem. The white t-shirt was decked out with the iconic and nostalgic fictional characters, Frog and Toad, from the children's books. The t-shirt she originally ordered featured Frog and Toad riding a bicycle together.
But, when the t-shirt arrived, Kelsey Dawn Williamson realized there was a huge mistake in her purchase. Yes, Frog and Toad were on the shirt, riding their bicycle like on the website, but, there was an added bonus that this mother did not see coming. 
Right underneath Frog and Toad sported the words "Fuck the Police."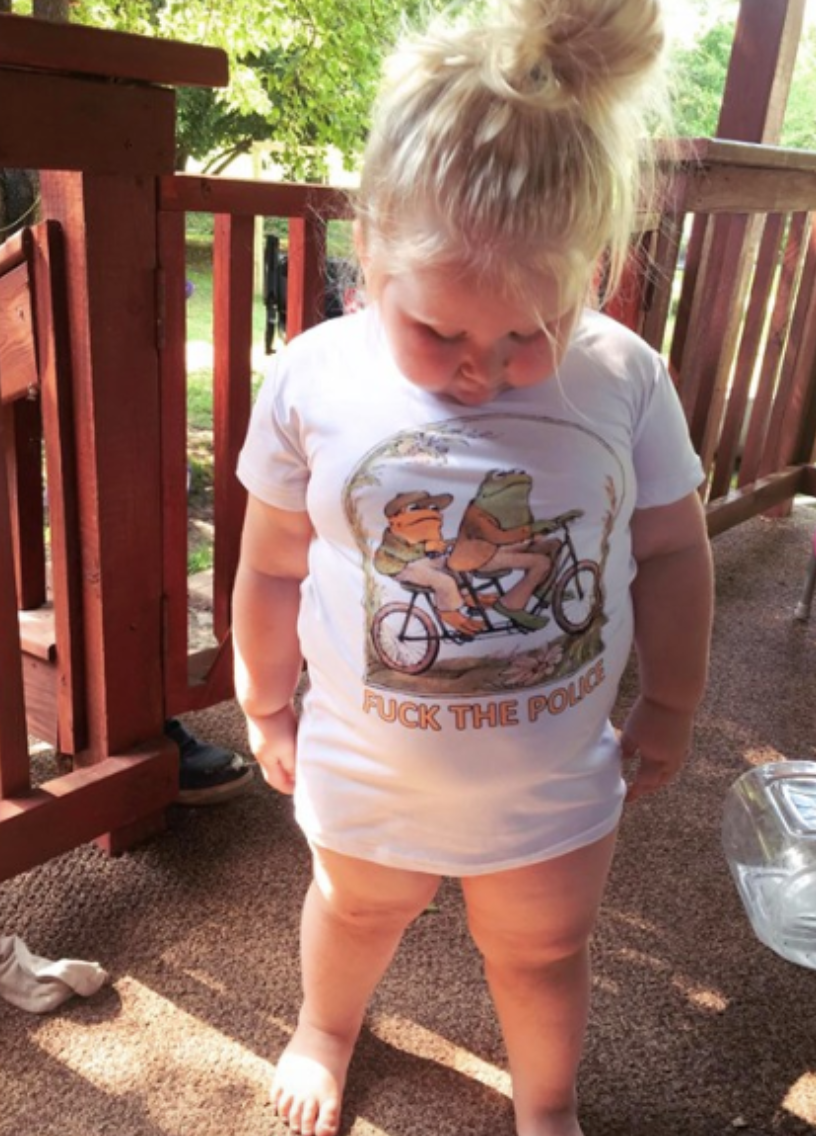 Clearly, Williamson was shocked that a t-shirt sized for a 3-year-old would even have this kind of phrasing on it at all.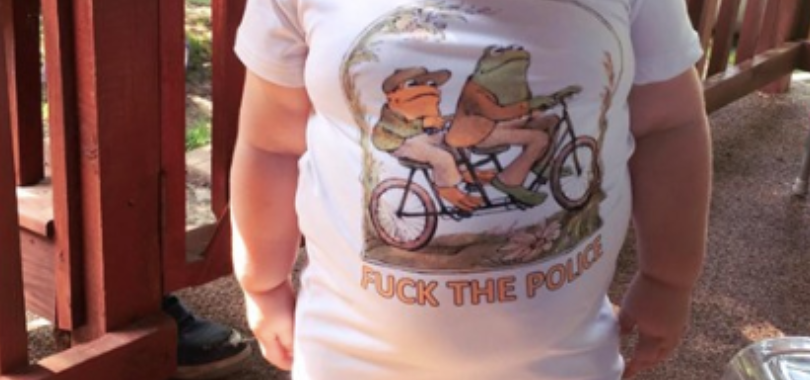 She wrote:
What I ordered VS what I received.

I fucking love China. I cannot stop screaming. WHO DOES THIS.
People online could not stop laughing at how ridiculous the shirt was.


But, it turns out that some people online had some pretty nasty comments for Williamson about her decision to put her daughter in the shirt at all—specifically because of the inappropriate language. Williamson edited her post to write:
Editing because I've seen some nasty attitudes: SALEM IS 3 AND CAN'T READ.
I DID NOT BUY THIS. THIS IS WHAT I WAS SENT.

NO, SHE WONT WEAR IT IN PUBLIC.
"Why would you take a picture??" YOU WOULD TOO, DONT BE A LIAR.
Additionally, some Facebook users made some horrible comments about her 3-year-old's weight. Apparently, Williamson said, that she sees a specialist for her weight.
Editing one more time: SHE SEES SPECIALISTS FOR HER WEIGHT. SHE CANT HELP IT. I CANT HELP IT. MY HUSBAND CANT HELP IT. IT IS OUT OF OUR CONTROL. JUST LAUGH AT THE FUNNY SHIRT.
Clearly, people on Facebook need to get a life if they care more about a child's weight than the joke that's right in front of them. Jeez, people, calm down.