On Tuesday, the Islamic State sent a suicide bomber into Manchester Arena in England during an Ariana Grande concert, killing 22 and injuring over 60. Since then, the world has come together to mourn the young, innocent lives lost and taken to social media to share their thoughts and prayers during this difficult and horrific time.
Several celebrities took to social media to share their thoughts and prayers with the victims of the Manchester bombing, stating how scary of a time it is for people who are just going to have fun and attend concerts as fans.
Kim Kardashian took to social media, like other celebrities, to share her thoughts during this time – except she shared a picture, unlike some other celebs had done.
Some people think her choice of picture was a bit inappropriate seeing as it was a sensitive time for many individuals across the world – others came to her defense, saying she was just trying to be polite and share thoughts and prayers.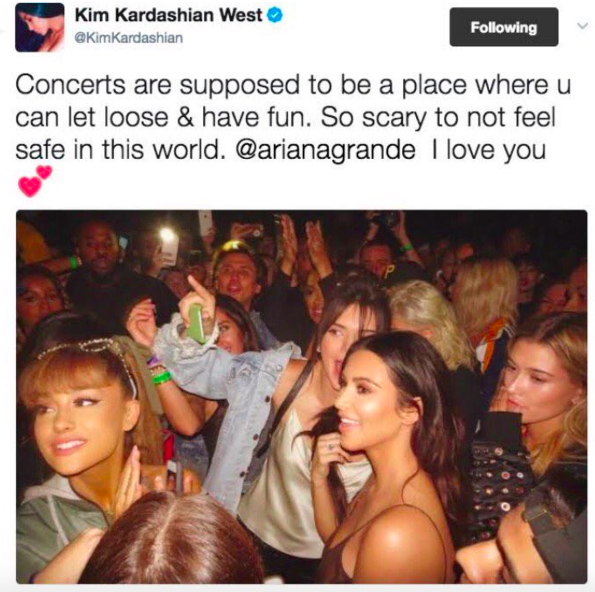 A lot of people think this is Kim's way of "making things about herself, again." Others think the picture is inappropriate and inconsiderate.
We're never going to forget when you posted an inappropriate pic and made the #Manchesterbombing all about you. (Screenshots are forever.) pic.twitter.com/lsZlptqWio

— Stephanie Sidley (@StephanieSidley) May 23, 2017
Kim Kardashian really posted a pic of herself at a party with Ariana Grande as a tribute to what happened in Manchester

— WhoElz Rothschild (@juelzthatmana12) May 23, 2017
Ariana is obviously traumatised by this, but this pic is centered and lit on Kim's face, Ariana is off to the side. Pic draws attn to kim

— _wanderluster (@runandtakeoff) May 23, 2017
Leave it to Kim Kardashian to make the Manchester attack about her! Always has to be the center of attention. #pathetic

— Alyssa Loshek (@alyloshek) May 24, 2017
Kim Kardashian is the only person who would post a picture of themselves as a "tribute" to the Manchester bombing... actually sad ??

— Evan Beyer (@ebeyer93) May 23, 2017
After some backlash, she changed her decision and posted these two tweets instead.
I'm praying for everyone in Manchester. This is truly so senseless & heart breaking.

— Kim Kardashian West (@KimKardashian) May 23, 2017
I can't imagine the fear and agony these parents must be going through searching for their kids ?

— Kim Kardashian West (@KimKardashian) May 23, 2017
Some people came to Kim's defense, saying she was just another celebrity sharing her thoughts and making a statement.
Miley Cyrus, Demi Lovato. Many other posted pictures with Ariana at the concert that included themself. Get off of Kim

— Stephanie Brebnor (@steph_bre1) May 24, 2017
Kim K didn't post that picture for attention. Its a pic of her and Ariana. A picture to show her support for her friend and the situation.

— Chloé (@Khlomoney98) May 23, 2017
She was talking about concerts and posted a photo of her with Ariana at a concert. Where's the issue pic.twitter.com/NfDl0hSCwx

— la bella vita (@drugproblem) May 23, 2017
So –
What do you think?